👍🏻 Wondering How To Make Best Facebook Ads And Increase Conversions?
We as humans are aspirational, always thinking good about us and same factor comes in play when we work on Facebook Ads. We think, create a great strategy, pick a nice image, write great content and target audience in the best way possible. But, we all know that every ad that we create does not work. Right? There may be many reasons to that but one common factor is that we miss out on basic human psychology which becomes a differentiating factor between an average ads and the best Facebook ads.
One fact has been established since the dawn of human race on this earth i.e. "looks are important". No matter what is inside, the packaging or probably called as presentation has always played a vital role in gaining attraction from people. This exact principal applies to ads and this is what differentiates an ordinary ad from great ads. This article will showcase attributes of Best Facebook Ads and how you can ensure that your Facebook ads perform excellent.
The concept behind it
Imagine yourself lost in a never ending Facebook news feed where you are scrolling through posts by your friends, Facebook pages, groups which you follow, topped by ads which are targeting you.
Now, add multiple chat windows where you probably are chatting with your friends who are online on Facebook at that time.
Can you realize how much distraction is present on Facebook itself? Remember, I have not even talked about distractions from other websites or applications which you may be using simultaneously.
How about I tell you that on an average, humans have only 8 seconds of attention span?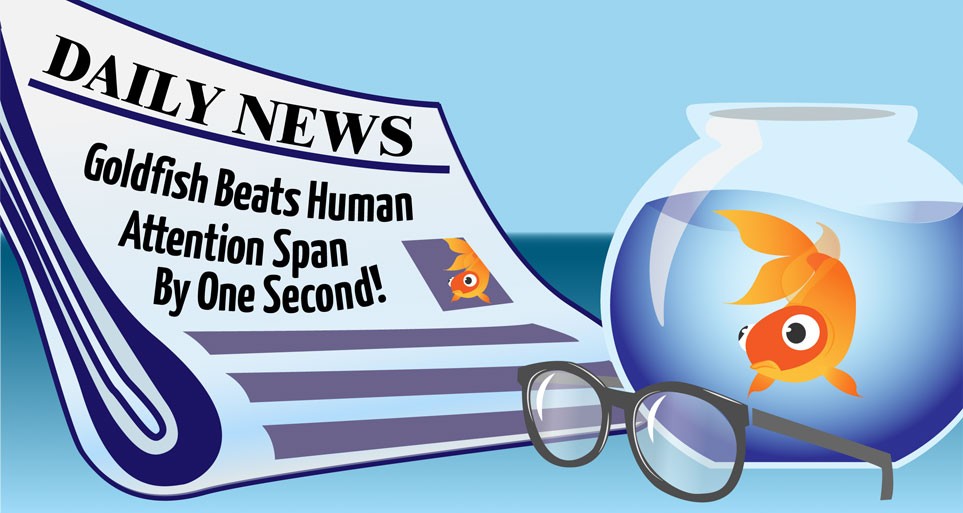 Can you guess what happens to that 8 seconds of attention span when you are in the middle of these multiple distractions?
Yeah! It becomes jumpy.
What does it mean to you?
Marketing is a contest for people's attention- Seth Godin
Any form of marketing is focused primarily on one sole purpose i.e. grab the attention. This is the first "Reaction" to your action i.e. your ad.
On an average, around 63% of ads are not able to grab the attention of it's audience. Result, they die at the first step itself.
The times have gone when people did not have options or too many distractions. During the time when televisions had only 1-2 channels and no internet, TV used to be huge marketing medium and people used to have longer attention span. Like it or not, if they wanted to watch a show on TV, their only option was to watch for the specified broadcast time only with no option to flip the channels during ads.
Now we are in middle of information overload when we can watch any program when we want and instead of half n hour or an hour, we can binge watch any program for days together. I still remember the time when I watched "Breaking Bad" for 2 days straight. 😉
Now people have option to flip TV channels during an ad, visit any other website or check their phone at the time when they are served an ad on youtube. The list goes on.
How to tackle this?
As I said before, grabbing attention is the first and most important aspect of any kind of marketing. And to get that, you need to stand out. You need to make a mark.
A poor or an average Facebook ad will get lost in the middle of multiple posts on your newsfeed while the best Facebook ad will stand out and catch your attention.
It may be contrasting color of the image, an uncommon image or text copy which evokes your emotions. If that ad has grabbed attention of it's audience, half of the battle is won.
One of the most important aspect of Facebook Ads is the design of your ads. Best Facebook ads are eye catchy, attracting the audience's attention in the middle of your newsfeed.
Is that enough?
Well, as I said, half of the battle is won by grabbing attention. For rest of the battle, the attention has to be retained. Infact, in some cases, it has to be increased in order to convince the audience to take action.
If you acquire the art of grabbing attention and retaining it too, you can churn out the best performing Facebook ads, without fail.
How to make the Best Facebook ads?
This is the most interesting part. There is no denying the fact that ads are subjective. Someone may like it , understand the concept behind it while at the same time, other person will be clueless about it. You cannot please everyone but there are ways by which you can ensure that your ad reaches maximum no. of relevant people and create a powerful impact on them.
Creating great Facebook ads is a mix of Art and Science. With a perfect combination of both, you can skyrocket the campaigns. Let's see how we can do it.
Cater to the buyer persona
Humans are complex!
Our lifestyle, our work culture, our ethnicity, our day to day activities, our work and our habits define what we understand, what we relate to and what we like and what we seek.
Before you even start with your marketing action plan, you need to understand your target audience. You need to know who are you catering to.
It is very important to create "Buyer Personas". The more you understand your audience, the better you can reach out to them and ensure that impact will be great.
This will enable you to understand their behavior, their likes, dislikes and their actual needs and pain points. They will love it if you focus directly on their pain points and add value to them.
Once you identify their pain points and concerns, design specific ads for each one of them, addressing their needs and how you will cater to that.
Check out images below
Both of the ads are from Upwork but catering to different people and their different concerns.
The first one is focusing on people who are looking for people to work for them, focusing on getting their work done quickly.
Second ad is focusing on freelancers who have a concern about payments for their freelance work.
Addressing the exact pain points strike a chord with your audience and create an impact which helps in better conversions.
Consistency is the key
Imagine that new "Avengers" movie is about to be released and you are eagerly waiting for it. Movie releases and you go to watch it.
The movie,  instead of action, has lots of drama and romance.
How would you feel?
Same goes for your ads. If your ads are not consistent with your landing page, product or services which you provide, it is bound to FAIL!
Keeping your ad consistent may result in lower click through rate but conversions will always be higher.
Ofcourse, getting 10 highly relevant leads in 1000 Rs. is better than 500 less relevant leads in same amount. Right?
Guide the user
One major difference between average quality Facebook ads and good quality Facebook ads is a proper call to action.
You may feel that your audience is evolved, can understand the language of your ad and knows what to do. But, guiding them and telling that what has to be done and what they will benefit after he or she takes action on your ad is always a good practice.
Intuitive websites and intuitive ads always have higher CTR and higher conversion rate in comparison to those which do not have a clear call to action.
Just having a "Click Here" button is a call to action but does it guide the person about why he should and what will he benefit out of it?
Guiding the audience becomes even more important when you want user to perform complex action such as filling up the form, checking out from your store or downloading a guide which he or she can use for their benefit.
Check the ad given above, mentioning clearly what the audience has to do and what he will get. If it is served to relevant people, won't they get a clear picture?
I am sure they will and that will convince them to click and perform the desired action.
Also Read: 
Social Proofs speak a lot
If I ask you which emotion is the most powerful when it comes to decision making, what will be your answer?
The right answer is FEAR!
When it comes to decision making, fear is the biggest factor which comes to play. The fear of deciding something wrong. The fear of outcome if your choice goes wrong.
Same principal applies when it comes to spending. Buying wrong product or service and ending up wasting money is a huge fear.
That is why FREE products are welcome. It is not always matter of money, it is about removing the fear of wrong outcome completely. FREE products remove the fear from the equation. Obviously, what do you have to lose?
No, I am not saying that you should give away your product or service for free but you need to understand a psychological phenomenon here to overcome this fear.
Let me take you back to your school days. Imagine for  one subject, your teacher states that you have failed an exam. You will be sad, disappointed and afraid of what will happen next. right?
Now what if your teacher tells that around 30% of class has failed the exam too. It may not help you in any way but surely it will lessen your fear. Isn't it?
Why does it happen?
Well, it screams in your head that "YOU ARE NOT ALONE" .
We need to follow the same method in our ads. We need to reduce their fear by stating that they are not alone in making this choice. This can drastically reduce their fears and increase performance of your ad.
Add social proofs to your ad, let the target audience know that thousands of other people have already made the same choice.
Human factor is a huge Impact
Have you ever observed that there is one common factor among best marketing campaigns and ads?
Each high performing ad will have either a dog, a child or some other human element. Why?
As per hundreds of marketing researches, dogs and children have highest impact when shown in ads. I know you are thinking about Vodafone's pug. Even Airtel's latest campaigns have kids in them(No! not that irritating 4G girl).
Apart from these two, adding a human element also helps.
It helps the audience in relating themselves to the ad. They picture themselves in that ad which evokes emotions.
The ad shown above shows a couple on a jogging track and stating that they are doing chores. Then it mentions that Hire a tasker instead.
Doesn't this ad invoke emotions? It makes the audience feel that they can lead their lifestyle, do something they love to do while their chores are being done simultaneously. It gives them the feel of benefit which they will get once they use this service.
Now see this ad
Does it stir the emotion in you?
One thing to understand here is that just using a human element is not enough.  You need to show happy faces and make people feel how good they will feel by using you product or service.
Show them the end point, not the starting point. It will sell your ad better by making people feel good.
Visual contrast cannot be ignored
As said in the beginning of this article, attention is the most valued return on any kind of marketing campaigns.
Your audience's news feed will be full of cat photos, memes, jokes, images of their friends or other ads. In order to stand out and grab their attention, visual contrast can be a great weapon.
Our brain is always attracted towards color contrasts and elements which stand out of the place and are unusual.
Also, you need to understand that while you need to stand out, overdoing the color contrast may overlap the brand guidelines, brand value or effectiveness of your overall communication.
Find a perfect balance, ensure that your ad stands out without looking way too out of the place. This will make you grab attention is the best way possible.
Let's have a look at this ad by Big – G. Bright blue color ensures that it contrasts with white background of Facebook newsfeed while being subtle enough that it follows Google's color theme perfectly. No gaudy colors or too much out of the place.
The Elephant and Rider theory
This is another very powerful psychological factor which is to be understood and practiced when you are aiming for best Facebook ads.
It is an old theory which was introduced by Chip Heath which describes how humans behave when they have to deal with change in their lives.
How is it applicable to Facebook Ads?
Your ad may not be changing people, it will impact them and make micro changes in their lives. E.g. an ad of Green Coffee may not change the person but it will impact their lifestyle, it will make them think about fitness, may motivate them to lose weight and convince them to be healthy.
No matter what you advertise, at some percentage, you ask people to make some change in their lives.
Human's decision making is similar to a rider on an elephant. Rider relates to rational thinking where he takes every action by measuring it's impact, benefit and outcome. The elephant on the other hand relates to emotional aspect of human's behavior.
He is impulsive and reacts to emotions.
The irony is that the rider thinks that he is controlling the elephant while elephant is bound to follow only emotions and his instinct. Both are far from being perfect.
If you analyze, our decisions too are bound to be controlled by rational thinking and emotional thinking. At times we let rational thinking win and at times our emotions win the battle.
We as advertisers have to understand this concept and need to do the following
Direct the rider : Make the audience understand the rational benefit and explain how it's a wise choice to take action through your ad.
Motivate the elephant : We are emotional animals, thus we as advertisers cannot ignore the audiences' emotional side. Show them how they will feel through your product or service. Highlight the benefit which they can relate to.
Shape the path : Focusing on "Call to action", guide the user and reduce the friction and distractions. That is the reason top e commerce stores have 1 click purchase after their ads.
Check out the image below
Also check out this video to understand the concept better
The list may seemed to be exhaustive while the pointers may be common but sadly, these are the most ignored aspects when it comes to Facebook advertising. While we aim for the best Facebook ads, we forget basic human psychology.
Mastering this art, we can ensure that our ads perform in an awesome fashion and deliver the desired results.
Let me know what you think about the above mentioned pointers. You can also share any special pointers which have worked well for you and your best Facebook ads. Will await your comments.